---
Andrew said: He loves the car and one of our sales reps, Doug, here at Singer Subaru and he has told all his friends about us! 
---
 Everyone is very professional and courteous. I come here for my inspection all the time. The best service anywhere.
-Sheila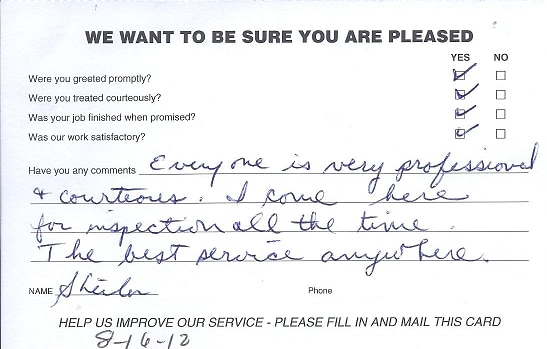 ---
I was very pleased with the service and how fast it was completed.
-Will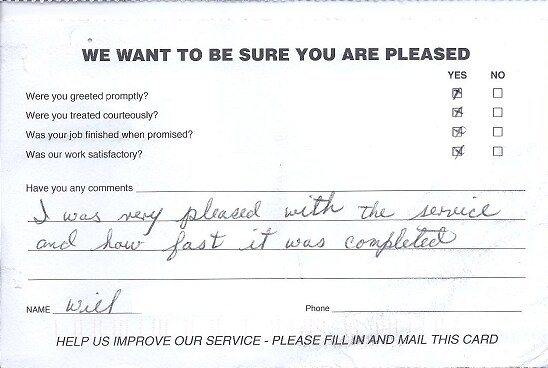 ---
I am very pleased with the excellent customer service I received today at the service counter.
---
I stopped in on a Saturday afternoon for an oil change without an appointment and was serviced right away by Ralph. He also reset my check engine light for me. He is a great asset to Singer Subaru!!
-Julie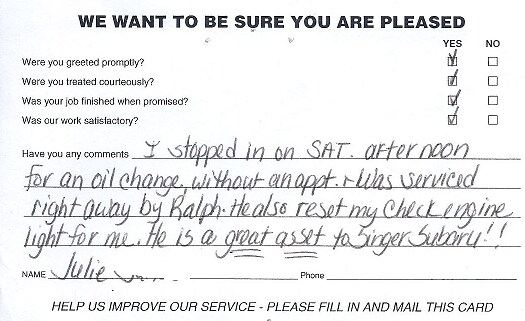 ---
Very satisfied and thankful.
-Richard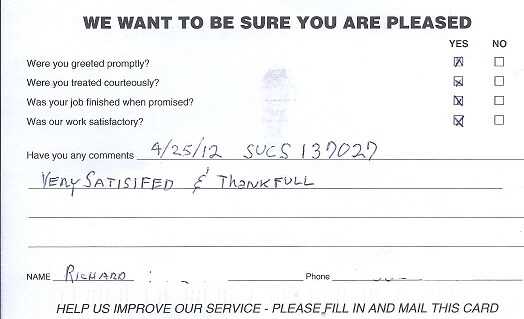 ---
Singer Subaru was great. From the minute I called to when I left with my car (repaired), the service was friendly and very accommodating. Will return!
-Lisa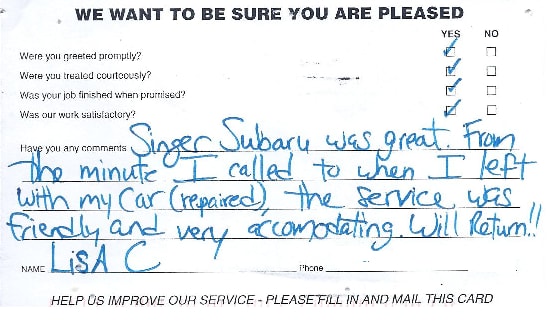 ---
Fast and efficient - thanks!
-Christie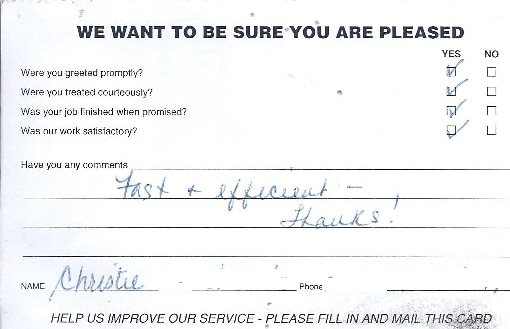 ---
After over 10 years of your service, we would not have our vehicles serviced by any other Subaru dealer.
-Linda & Ed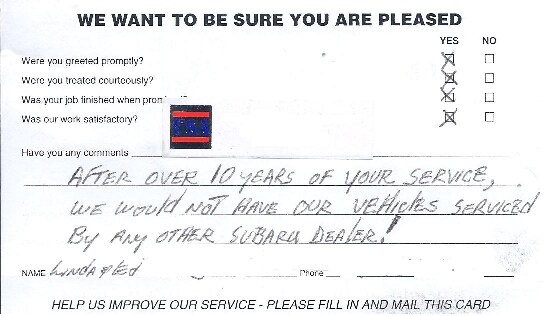 ---
The best service anywhere. It's a real pleasure. Efficient, friendly, and professional.
-Shelia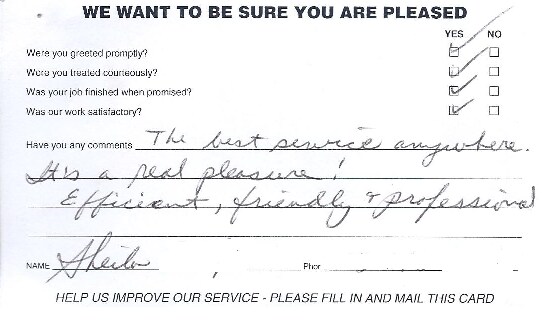 ---
Exceptional service! Exceptional customer service skills! Will buy my next (6th) Subaru at Singer Subaru!
-Anita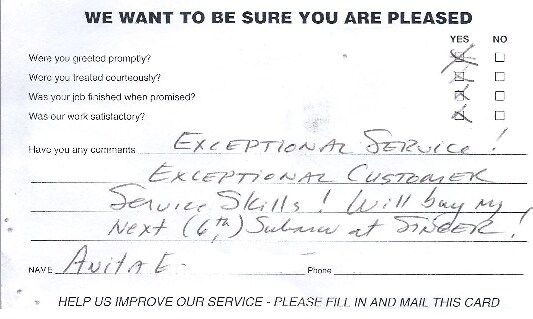 ---
Great Service; Great people!! Always get knowledgeable service, a smile, and a laugh or two!!
-Penny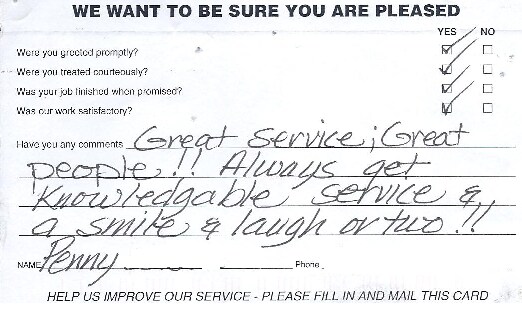 ---
Very good service. Keep it up.
-Joseph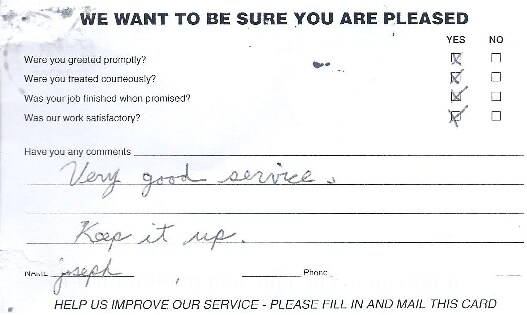 ---
It is always a pleasure working with Nancy.
-Steve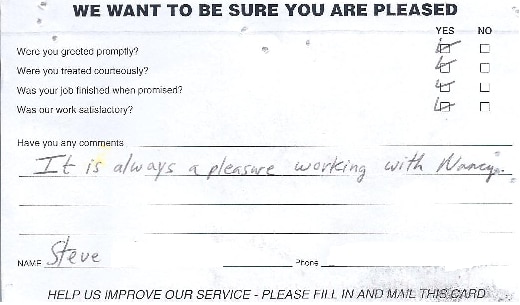 ---
I always feel welcomed when I come down for any service. Everyone is very helpful when I have a concern or question. Thank you! :)
-Joanne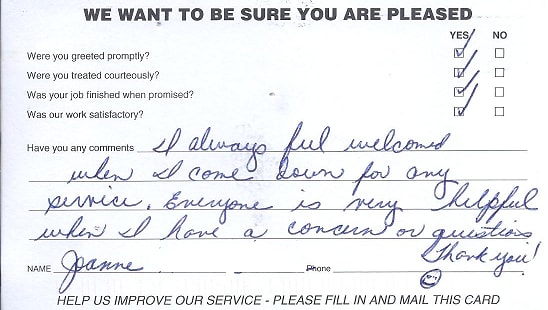 ---
Loved having my car detailed! It looks brand new!
-Nancy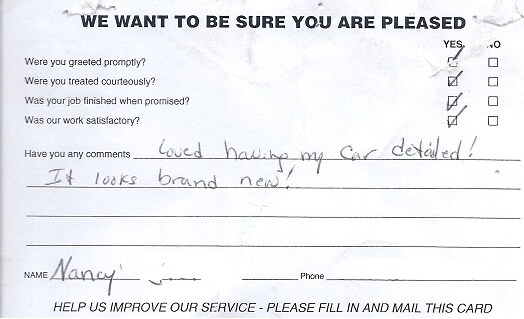 ---
Thanks for great service!
-Richard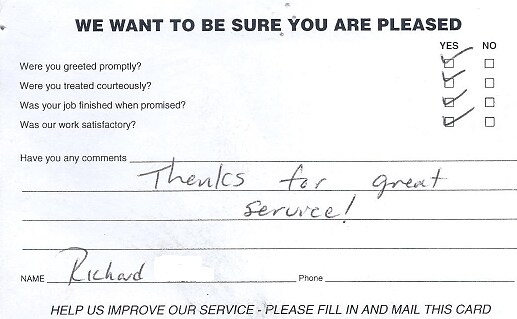 ---
Always a pleasure to come and be pampered at Singer Subaru by a great group of friends.
-Mary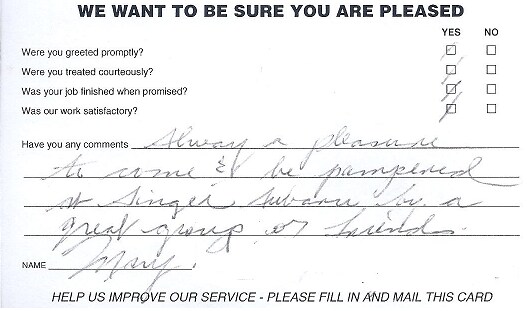 ---
My car was so dirty when i arrived to drop it off. I was going to head right to the car wash once it was finished, but they washed it for me!
-Nancy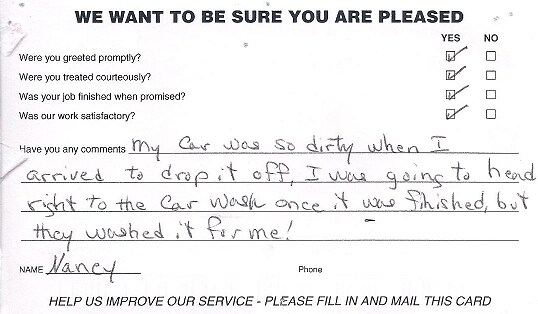 ---
Nancy and the service department are WONDERFUL, as usual!
-Penny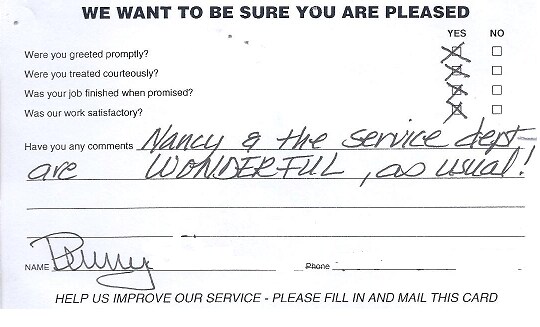 ---
I love you guys! This is the first dealership that I have not been treated like a VIN number - Thank you!
---
Singer Subaru,
Thank you for donating to the North Salem Elementary School Father Daughter Dance. Out dance was a success! Everyone had a wonderful time. Events like this one would not be possible without the generous donations of our families, local businesses, and businesses throughout the Southern, NH and Merrimack Valley areas. Please accept our sincere gratitude for your support.
Thank you very much for your donation.
Sincerely,
North Salem PTA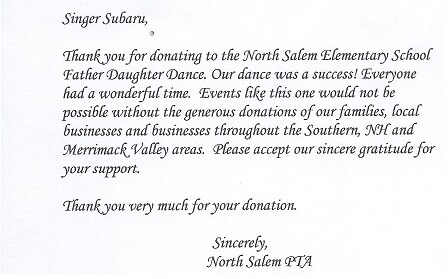 ---
Dear Singer Subaru, Thank you for all you did for us at the lip sync. Thank you for your donation. Without you the lip sync would not be possible
From your friend,
Dimitri

---
Dear Friend, David and I would like to thank you for your generosity and thoughtfulness. We are truly blessed with all the wonderful friends and family in our lives! 
-Dee, David, and Family

---
Dear Singer Subaru, Thank you for supporting our lip sync. Without you our lip syncs would not be possible. The lip sync is something I look forward to every year. I am sad to say this is my last year i will be able to be in the lip sync because I'm in 5th grade. I have had lots of fun doing the lip sync and I wanted to say thanks.
-Jen from Atkinson Academy

---
I just wanted to recognize one of your associates, Jennifer Frampton. I was recently working with Jen on an Outback purchase and had a wonderful experience. Although we did not end up purchasing ( for reason's entierly unrelated to Jen, Singer, or even Subaru), I felt compelled to acknowledge her. She was incredibl
y easy to work with and made the experience enjoyable which is so hard to come by when buying a car. Thanks Jen.
-Linda 
---
I would like to thank Singer Subaru of Plaistow for helping me when my truck wasn't able to get a sticker and they fixed it for free. This shows that Singer Subaru will be a great auto dealer here in New Hampshire.
-Mark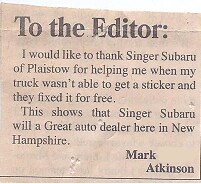 ---
That's the fastest in and out appointment I ever had for service!
-Joseph
---
Simply put; you're the best!
-Jeff
---
Once again I am treated as loyalty. Here, I feel like you are my extended family! Thanks for your friendship!
-Mary
---
Nancy and Jason were wonderful to me!!! I always feel welcomed and treated with the most respect at Singer Subaru!
-Joanne
---
Excellent service from superior people, as usual at Singer Subaru!
-Penny
---
Thank you guys at Singer Subaru once again for saving my day! My car is running GREAT! Quick fix, simple problem, and great service! It's all the best with you and my Subaru!
-Lisa

---
As always, it is a pleasure to do business with Nancy and all at Singer Subaru. I didn't get to shake hands with the mechanic, but the work was done in a timely fashion and the waiting area and cup of coffee was appreciated!
-Janet

---
Nancy and the staff at Singer Subaru provided me with EXCELLENT service, as
always! Thank you!!
-Christie

---
Nancy at Singer Subaru is AWESOME! She is a real treasure who goes over and above her job description.
-Stephen
---
Thank you for always taking good care of my Subaru, and for the sparkling clean car along with the great service!
-Ann
---
Although I had a complimentary promotional inspection at Singer Subaru, I was pleased with the prompt, professional service!
-Patricia


---

This was my first visit to Singer Subaru and I was very impressed!
-Ken


---

Nancy and the technicians at Singer Subaru were awesome! They squeezed my repairs in at short notice instantly and cheerfully!
-Avis



---



I was able to make an appointment right away!
-Julie



---
Cami- Reviewed on 10/30/12
Hi Singer Subaru Team!! Just want to give a shout out to Jennifer Frampton, Eddie, Vasiliy, Nancy and everyone else for all of your help in my trade and new/used car purchase. I drove over an hour each way to get to your dealership because of the superb customer service that blew the competition away. I am driving my Forester all over NH and MA and it runs great and looks awesome too. I drove home from work in the hurricane and I felt very safe and she drove just fine.Thanks for all that you did to get the Forester ready for me and for the trade of my much loved but very large but hard to place truck.

---
John Walker
reviewed : September 9, 2012
Quality
Excellent
Appeal
Excellent
Service
Excellent
I purchased my New Outback at Singer Subaru, couldn't have asked for more in a purchase experience. They made me feel like I was family, with a very considerate and friendly staff my next Subaru will certainly be purchased at Singer and will refer everyone looking for a Subaru to them as well!!!
---
Kelly Johnson -
reviewed 12/15/2012


Quality
Excellent
Appeal
Excellent
Service
Excellent
Upon entering Singer Subaru, I was very pessimistic about me purchasing a new/used car, due to some bad credit history the chances were slim to none. After sitting with Jennifer and Leo and providing all my info....I waited. It was an unbelievable surprise to me that the bank approved me for a loan. Jennifer continued to work with the bank in order to get me the rates I was hoping for. It took several days but the persistence on Jennifer's behalf to help me was amazing!!!! The staff at Singer Subaru were very honest, friendly, caring to my needs and willing to work with me. These are adjectives that are difficult to find now a days in a place of business. So...thank you to Jennifer, Eddie and Jeff :) I will 100% recommend any person to Singer Subaru!!! Thank-You! Kelly Perez
---
FROM THE DESK OF
Thomas V.
To Aaron Singer
I would like to tell anyone who is looking to buy a car new or used; that you are the dealer they should be buying from. There are many reasons but my experience has been nothing but great. I have been buying cars over the last 50 years from many dealers and from your dealership ever since you took over. I have bought about 7 new Subaru's from you starting with Foresters and progressing to Outback and now the last four are Tribeca's. In each case your dealership has been outstanding in price and service and you are the most accommodating of all the dealers I have dealt with. It has always been my experience having been on the road selling over the last 43 years that you can judge a dealership by the way it is run when you need it to come through for you. In each case that I needed to get back on the road your dealership Service Department has come through. I judge a Dealership by the man (Aaron Singer) who owns the business and how his people carry out his orders and in each case Singer Subaru gets A plus with me.
In selling I believe that your customer should be your friend and not just business acquaintance and I believe you are my friend.
Thank you for your great service.
Thomas V.
---
We love the new Outback!
by David from Derry,N.H. | November 27, 2012
My girlfriend Sharon and I spent the last couple of weeks looking for a Outback for her. We visited and called most of the Subaru dealers in southern NH. I can be a little hard to please when it comes to car dealers. So

...

needless to say I had my share of frustrations. Sharon had a few pleasant and very informative phone and email conversations with Jennifer from Singer Subaru, and she talked me into giving them a chance to win our business. That was last night, and today we are both loving the new Outback. From her first email to the pain free financing, Jennifer Frampton, and the rest of her team at Singer Subaru made for an all around great car buying experience. Thanks again.
---
Singer Subaru Supports Efforts in Local Schools
The Atkinson Academy and Timberlane Regional HS have both acknowledged Singer Subaru for their support of efforts to keep those schools drug and alcohol free.